Graveyard Tattoos
Open Tuesday – Saturday from 12pm to 8pm
Phone (503) 655-0200
9245 SE Clackamas Rd,
Clackamas, OR 97015
Graveyard Tattoos is a homegrown tattoo shop and school located in the heart of Clackamas Oregon. Run by founder Bob Platt and co-owner Angie Sanchez with artist Sarah Carr Graveyard has been tattooing the PNW for over 15 years now. More than just a shop Graveyard's school of tattoo will take any aspiring tattoo artist and help them get all of the real world experience and knowledge they need to become state certified and working right away, more information listed below.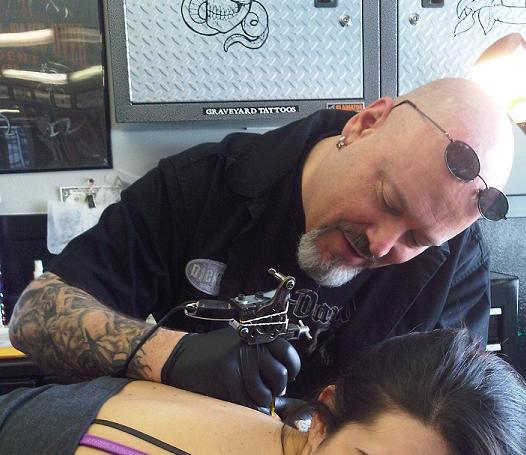 Founder of Graveyard Tattoos Bob Platt is an amazing tattoo artist, musician and entrepreneur. Bob has always been an artist who loves working with black and grey in any medium from tattoo ink to charcoal and his work is dark and vibrant. In 1994 Bob started to make a name for himself around Oregon and by 1999 he had opened Graveyard Tattoos, now you can't go into Clackamas Oregon without seeing someone who has a tattoo from his shop. These days Bob spends time working with students, tattooing clients and working with his band Slightly O.F.F. For more of Bobs work check the gallery below or come on by the shop.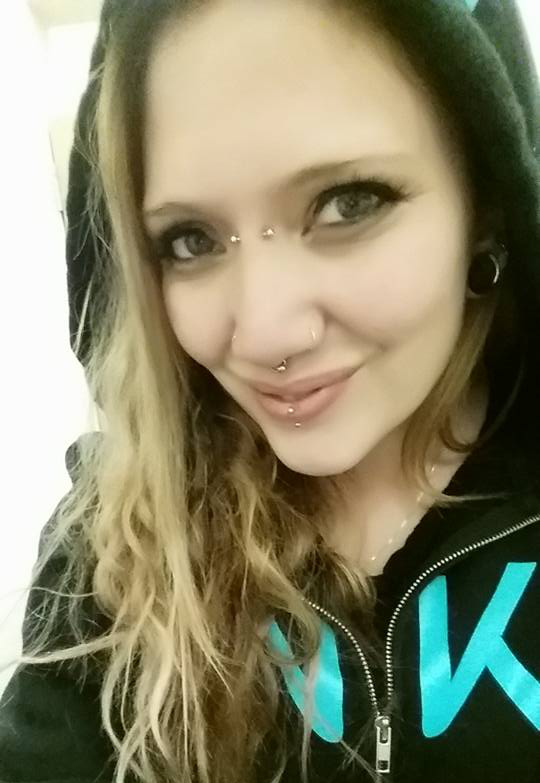 Angie Sanchez found her passion in drawing and painting at a young age. With a focus on all forms of art all throughout her schooling, she knew tattooing was her dream career. Though she loves all things color, she enjoys doing all tattoo style types. She aims to ever improve and challenge herself in her career. Angie has an ever growing list of clientele and students whom she loves to get to know and form friendships with while going through the designing and tattooing, or instructing process. In her spare time, Angie can be found in her at home art studio drawing and painting with her Sphynx cat and best friend Noodle, she also enjoys all things nerdy; reading, anything to do with music, working on her muscle cars, traveling, and anything outdoors.
For a look at Angie's Facebook page with all of her latest work click here!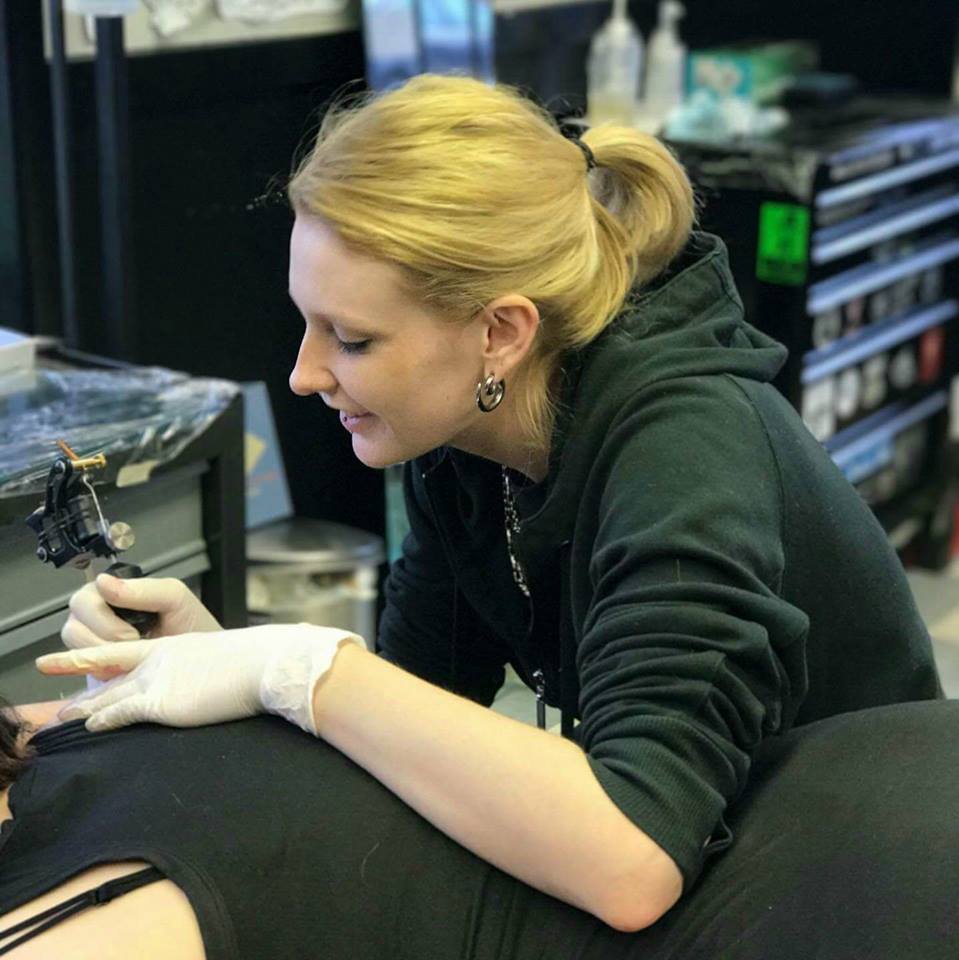 Originally from Wisconsin, Mikal has a classically trained background in illustration from the Milwaukee Institute of Art and Design. She moved to Portland to pursue her passion and enrolled in Graveyard Tattoos' school program. She has since become the latest addition to the team. Mikal's art is influenced heavily by comic books while still carrying much of her own aesthetic. When she's not at the shop Mikal likes to play video games and hang out with her dog.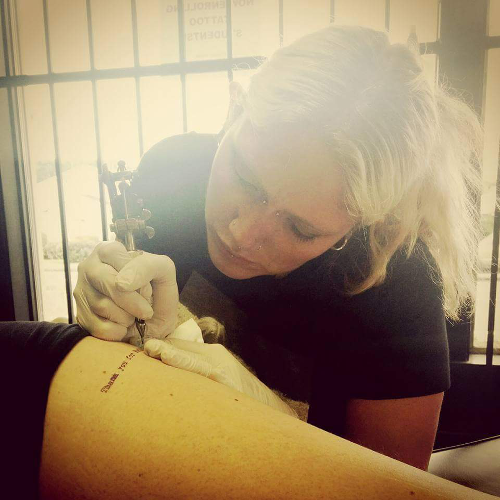 Graveyard Tattoos training course is not a classroom environment, it is one-on-one training with instructor who is a licensed artist in the state of Oregon. Students of Graveyard Tattoos cover the following criteria to prepare for the state exam and real world situations; History of Tattoo, Definition/Terminology, Needles/Needle Bars (20 Hours), Tattoo Machines (20 Hours), Equipment/Supplies (20 Hours), Safety, Sanitation & Sterilization (40 Hours), Color, Theory & Pigments (10 Hours), Design, Art & Placement (10 Hours), Skin (20 Hours), Client Services (20 Hours), Business Operations (40 Hours), Oregon Rules/Regulations (10 Hours), and 50 Required Procedures.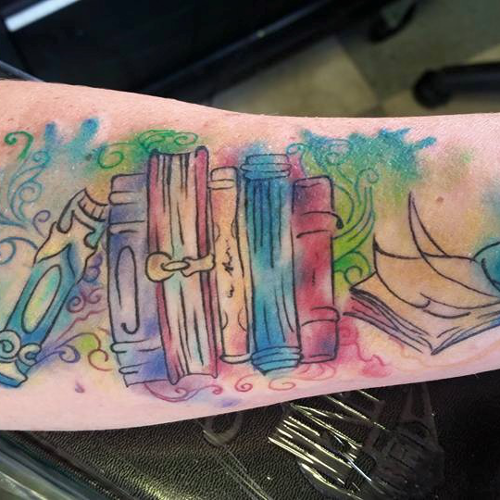 Approximate time for completion is 4 months full-time or 8 months part-time. Class schedule is determined on an individual basis and availability of the instructor. The program is based on a pass or fail system. No classes are held on; New Year's Eve, New Year's Day, 4th of July, Thanksgiving Day, Christmas Eve and Christmas Day. Entrance requirements include a high school diploma or equivalent. No credit for previous training is given. All students must complete the entire course with a passing grade to become certified.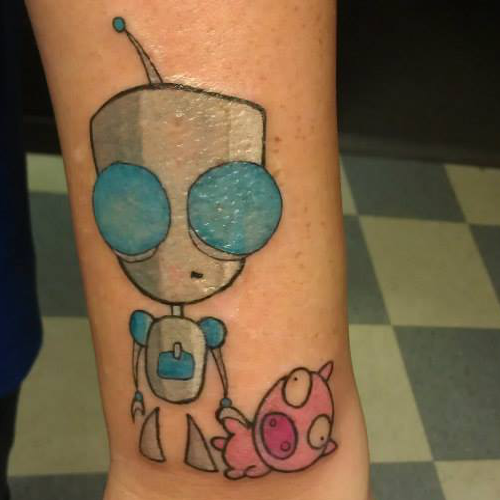 Graveyard Tattoos is licensed by the Oregon department of education. The cancellation and refund policy includes 1) You may cancel enrollment prior to starting classes by giving written notice to the school. 2) If cancellation occurs within five business days, you will receive a 100% refund. 3) If cancellation occurs after five business days, the $125.00 registration fee will not be refunded. 4) If a student withdraws prior to completion of 50% of the contracted program, the student shall be entitled to a prorated refund of the total tuition charged. 5) Upon completion of 50% of the program, no refunds will be given. 6) Books/Equipment Fee is non-refundable after being given to the student.